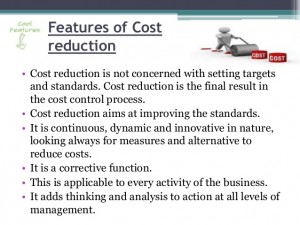 « Austerity » is the current famous word we are hearing from several sources: from politics, economic consultant agencies, at work, etc.
Like any cycle, economy has top and down situations: when everything is working well we are spending money out of the windows, but when it is becoming rare then we are suffering cutting cost all around us.
Before thinking about where the balance should to avoid such yoyo situations, we need work hard to reduce cost and sometime to the bare minimum.
Reducing cost is not as easy as switching off a button or "closing the taps ». Indeed it needs to be done without impacting value creation (what we are selling) otherwise we might end up to close our entire business completely.
It needs energy because we need to think about several ways to reduce costs and some time you need to make decisions that you'd like to avoid but you have to otherwise things can be even worse.
I run through several cost reduction phases both at work and personally. It was interesting in a fact that you need to review your routine and question each spending. It is challenging because you may have to work harder or lost a convenience you appreciated. But as a project, there should be a clear target defined which once achieved can celebrate. Yes, you can celebrate a cost reduction achievement since the goal is not to stop spending but reduce recurrent non-critical costs.
It is very important to celebrate such achievement in order to keep a good mood and be ready for next challenge which is controlling such level of cost and avoid going through reduction again. But celebrating such success should not be against what you just achieve.
Here are 3 simple rules to keep in mind (from The Simple Dollar Blog):
Any celebration that undoes any of the progress I've made on my goal is a mistake and I should find another way to celebrate.
Any celebration that causes a setback on other goals in my life is a mistake and I should find another way to celebrate.
If I can envision myself regretting this celebration (or an effect of this celebration) in a week, I should find another way to celebrate.