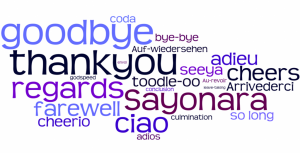 I recently received three farewell e-mails in just 2 weeks from colleague leaving the company for new challenges in their career. We may have all gotten such communications announcing career changes and providing contact details to stay in touch.
I just realized the personal boost benefit of getting such emails, because the sender is not only telling you what he is going to do (or not to do) and giving you his personal email contact. Indeed most of the time you already known all this well before you got this Farewell. However such missive is very confidential in two ways:
the sender was never obliged to write such communication but he did it
the sender methodically select recipients and you have been chosen
Basically your ex-colleague did an optional effort to let you know you are part of its own network and appreciated working with you.
Until now I used to reply to those communications by using a generic template and giving my personal email in return, but this time I decided to replied and this where the mutual emotional boost is starting.
Indeed, even if you've been only few people receiving this Farewell E-mail, the communication still generic enough to make sure everyone reading it feels involved. But once you decide to reply, it is becoming a one-to-one communication where you can go further in details and also « return the thank you back ». By doing it you confirm that you acknowledge your good relationship with him but also giving a personal feedback on why you want to stay in touch, and you will probably get a reply back in that sense too: on the three email I replied I got two writing replies and one callback which made my year!