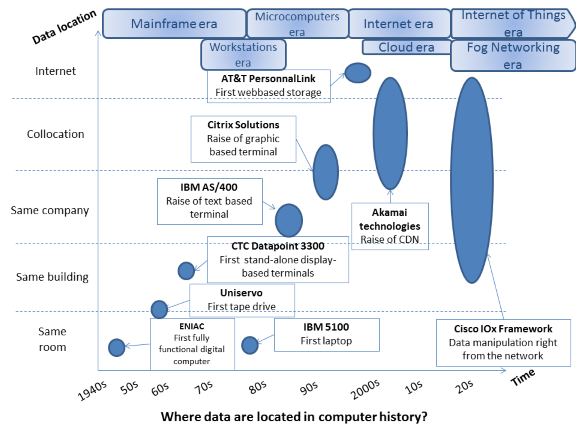 « My data are in the cloud »: pretty scary thing when you think about it! In a world where lot of us still fighting to keep some privacy, lot of us also massively using free cloud storage to store/backup our data. Don't get me wrong, I'm also using cloud storage for my own data, but only the one which is not confidential. Internet being a public network, everything you put once, will be definitely discoverable, shareable, and usable by anyone else at some point.
Anyway with the Internet of Things area around the corner, we are going to use more and more public area to digitally interact and communicate seamless thanks to improvements done in term of networking technologies.
But let step back a minute, and see where we are coming from: 60ich years ago, one octet of data was taking a full room (ok maybe I'm exaggerating a little here 🙂 ) and now we have Tera of those octets dispatched somewhere in a worldwide public network. The figure above try to cover the major innovations from the last 60 years in order to understand how data store location evolved.
Innovation after innovation, data tend to move away from the user but we used to have regularly new product (laptop, portable tape drive, floppy disk, USB drive, etc.) to overcome that fact since the user still need to access those data.
However the way we are accessing data changed during last decade. Until recently still,  data stay close to you because you were bringing it with you (laptop, USB key etc.). Now data stay close to you because you can access it from anywhere (cloud storage), and the challenge is not anymore to access those data but to manipulate them faster wherever you are: fog networking might be the answer by computing data directly on the network layer, sort of extended version of CDN technologies with more intelligence and computing capability.