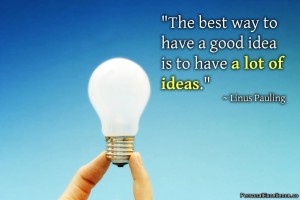 I'm from those guys who think everyone has a hidden part of ingenuity. Ingenuity is part of human being which is why humanity is at the current level of evolution. You don't need to be a genius to be clever. Our brain constantly comparing hundreds of scenarios per second in order to make sure we'll do the right thing on a mechanical point of view.
The biggest challenge is to realize this ingeniousness and keep it ready for any potential circumstances.
But because we are also constantly discovering new things or jumping into new subject several time a day, it is pretty hard to keep in mind any potential tips or idea we may have had at some point.
What I'm trying to do my self is to keep track of every idea I may think by taking notes, sketching, drawing, drafting and just keep it safe somewhere.
At work I used to draft a lot of presentations mainly about operations & organizational improvements once I'm facing a situation that I think can be improve. Then when I do have time to focus on it or even my management ask me advice on something, most of the time I do have something to start with out-of-the-box in a hour.
Another benefit of doing such exercise is to transform your conceptual idea into something factual and visual for others. By doing this, you will improve your pedagogy skill which is very important to become a good manager.