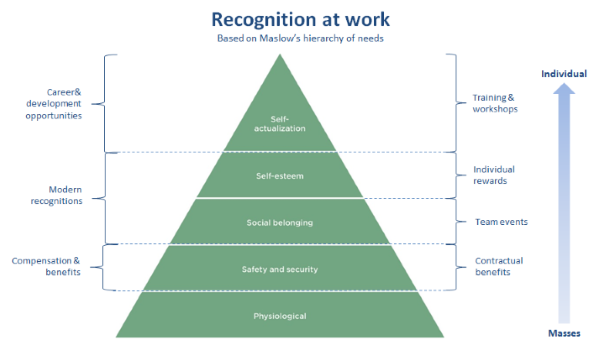 As Maslow's Hierarchy of Needs is trying to describe, all humans have essential needs that must be met through the course of their life. It starts from the basic physiological needs to keep survive (air, food, water, etc.) to end at self-actualization level where we have full control of our self both, personal, social and professional speaking.
Understanding such hierarchy will help manager to keep their teams motivated and engaged. To reach that goal more and more companies are implementing recognition program as part of their HR model. However to make it work recognition need to follow some rules which can't be applied the same way depending on the country, culture, and individuals.
As described in this Forbes.com article, there are 5 keys points to cover in order to get benefit of a achievement's employee recognition:
In the moment: acknowledge efforts and results in a timely manner
In context: recognized efforts must be related to a larger goal or business-results-focused activity
Appropriate in volume/scale: recognition balance must match efforts and results
Authentic, not automatic: don't put recognition reminder task in your yearly agenda!
Tied to the employee's perception of value: adapt recognition to individual
This #5 is for me the most challenging one since every individual is unique because of his culture and background.
In some culture, recognition is closely linked with physical rewards (mainly $$$) where in other it is more about giving more responsibility and flexibility. Some group may love being recognized publicly while other just need this small tap on top of the shoulder from his manager with a simple « good job ».
From my point of view, physical rewards are now part of the old school recognition model, where most of people were racing for the big bonus. I'm not saying this is bad, and I won't refuse any extra money but I think people needs now more to be better self-esteemed. They need to feel they are part of the company and not just an employee number.
Want some tips? Just have a look at « Great Place to Work » best companies or here see how they are dealing with their employees. They are actually many similar ranking in several countries and for different company size, so just check the one which match with your own.
Here are some ideas I selected which I think can be apply in most companies:
Say « Hello » and « Good bye »: it can be dumb but too many managers used to forget simple civilities. Saying « Hi » in the morning proof that you recognize the employee as an individual and not as a simple workforce resource.
Say « Good job »: you can simply write a personal note attached to the next salary slip or by email to tell how happy you are from his/her recent achievements/results.
Involve your employees: For instance in recruitment process. You will still have the last word on the final decision, but at least it will be based on a common discussion around potential candidates.
Include personal development as part of their annual goals: who else can know more what an employee want to do of his career than the employee itself? However you'll need to give him the capacity to achieve that goal.
Organizing team/social events: it doesn't have to be a night long clubbing party or a seminar at Disney World, but sometime just bring some « viennoiseries » (aka French pastries) in the morning or for team meeting. It is not the volume/cost of the event but just the fact you think about it can make the difference.
There are many many others ways to recognize people, but you just have to take time to read what your team is looking for. If you see last recognition initiative failed, try another one next time until you find what your team need to feel recognized. Just the fact you keep trying will also be seen as recognition.
Recognizing people make them feel better and want to stay in the company, but it is also enabling engagement from them as describe by the infographic below, which is also using Maslow's hierarchy of needs as a foundation.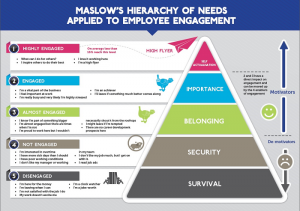 Source: How Maslow's Hierarchy of Needs influences Employee Engagement